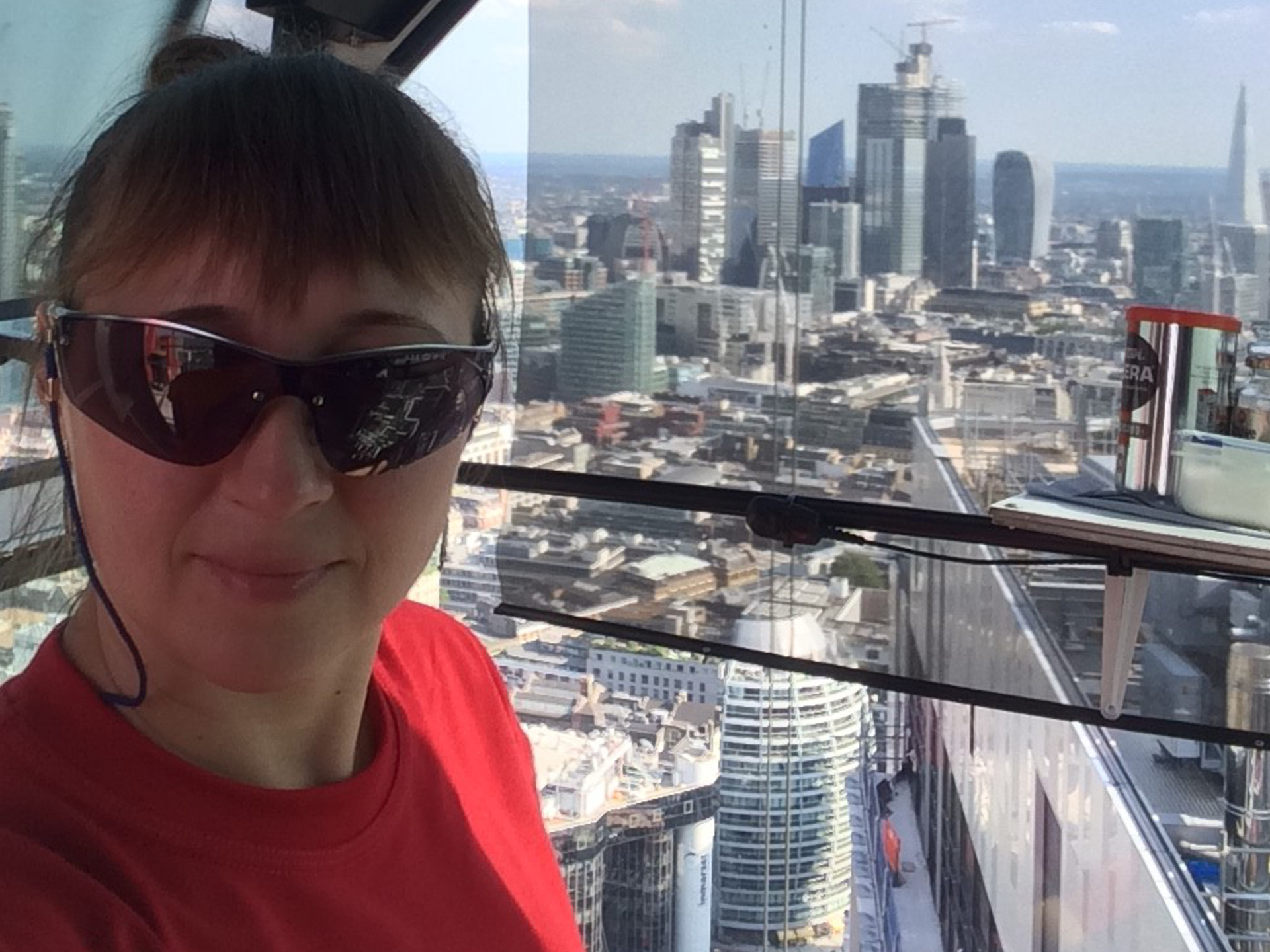 ---
Irena Stec has been working for WOLFFKRAN since 2014, joining immediately after she completed her Tower Crane Operator training. Irena passed her Level 2 Plant Operator qualifications achieving her blue competent operator card. Since her initial training, she has progressed with her development and achieved Slinger/Signaller, Crane Supervision, and Appointed Person qualifications. Irena has operated various models of WOLFF tower cranes, the highest of which was 158m! During her career, she has worked on many projects in the UK, including high profile sites such as Mace - City Road (Atlas Building) Mace - Angel Court, Mace - St Mary Axe, and the Mace - Camden Market Development.
Her attitude and professionalism was recognised and rewarded by KIER Construction with the title of employee of the month at the Royal College of Art project.
---
Q&A Session with Irena Stec
1. Could you please tell us about yourself?
I have been working in construction industry for past 11years – 7 years in lifting operations, I feel like a trailblazer taking part in pathing the way for the next women in construction. My first steps were not easy, let us face it; it is a male dominated industry! it is hard to break in to and to stay there is even harder. However, we did it Zuzanna, Magdalena, Irena, and past employees Vicky and Joanne. It takes massive courage, self-motivation and a lot of high self-esteem to carry on working and stay working calmly. Being a tower crane operator has many positives, but it also has negatives, and it is important to find your way to overcome them.
My work experience before moving into the construction industry was very wide, in Poland I learned to be a bee keeper technician, studied law and finance, worked in school as a teaching assistant, in bank as front customer service. After coming to UK, I attended English Language Classes while working as a cleaner in a large London hotel. My feet were covered with blisters, my body aching from exhaustion; my hands were covered in cracks from chemicals while constantly rushing to make the deadline for the next guests. "What doesn't kill you make you stronger" they say. That was the turning point for me!
I needed to my change job and learn new skills, so I did. I starting working in retail for women's clothing company and progressed into a managerial position, running shops, taking part in fashion shows, preparing new collections, assisting at wholesale trade events.
However, I still hadn't found my calling and my window of opportunity and chances to develop was becoming less. I then looked into construction and started working as a booking clerk officer in a construction materials distribution centre, learning construction at its roots from supply chain, fitment to finished product. As time passed by, I want to change my career path and take on the challenge of becoming a Tower Crane Operator.
The very first words I asked when I contacted the training provider for the tower crane operator training was " do you train women on the course" and that's how it all started, my life experience into lifting operations. During my career with WOLFFKRAN, so far I have achieved the following qualifications, Tower Crane Op, Slinger/Signaller, Crane Supervisor and Appointed Person.
2. What made you want to become a tower crane operator?
I am self-motivated person who loves a challenge and need to keep learning and developing myself.
3. Can you tell us about your role as a tower crane operator/Crane Supervisor/AP?
Safety, safety and one more time safety! That is the most important message for any lifting team members.
4. What is it about the job that you like so much?
That each day brings a new challenge, each days lifting operations are completed safely and everyone involved goes home without a scratch.
5. What was your proudest moment at work?
There have been many proud moments in my career such as receiving safety awards or becoming employee of the month. Being hand-picked to work on high profile projects to carry out the lifting operations to the highest safety standards.
6. How do you think women can contribute to the construction industry?
I think lots of women have the ability to see things outside the box, when men are more focused on getting the job done. Ladies are very organised and marvellous with logistics, time keeping and multitasking, juggling lots of tasks at the same time.
7. Tell us about the most exciting project you have been involved on.
The most exciting project was by far the New Scotland Yard building, where the remaining part of the walls were kept and the new steel structure had to merge perfectly. Working closely to the grade 2 listed heritage building was very challenging and exciting.
8. How has working at WOLFFKRAN impacted your career?
Working at WOLFFKRAN has proven to me that I can do anything in the world if I wanted to. Not even sky is the limit!
9. How could we encourage more women to work in the construction industry?
Believe in yourself, women you have so much more to offer than you can imagine.
10. What would you say to other women who were considering starting a career in the construction industry?
Be bold with your ideas and never be afraid to speak up, you can make an impact in construction industry if you just take the first step.